50 years later, this festival not only still exists, but enjoys a strong international reputation
Article content
By Scott Merrifield
Article content
I would like to share some reflections on the early years of Northern Lights Festival Boréal.
When a group of Sudbury youth got together and organized the first "Northern Lights Folk Festival" in 1972, we had little idea what we were doing, let alone any notion that 50 years later, the festival would, not only still exist, but enjoy a strong international reputation.
It was a time when Sudbury had a number of independent, youth oriented drop-in centres and other non-professional youth services operating in church basements and high schools in summer around the city. At a meeting I organized to discuss the merits of more communication and cooperation among these projects, someone suggested we cement our collaboration by holding a folk festival. A committee was formed that I was to chair, and the great adventure began. Among the main organizers were Jean-Jaques Paquette, Normand Glaude, Stan Belinski and Ray Auger.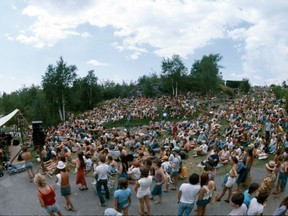 It was a relatively modest affair, mostly local performers (the likes of Robert Paquette, Paul Dunn, Richard Mende and Len Hansen), with Murray McLaughlin, Keith McKie and Luke Gibson booked by a local promoter, John Bell, as headliners. And it was controversial. Woodstock had taken place only three years before and, while our generation mostly agreed that it was wonderful, many older people were scandalized and feared something like that might be coming to Sudbury.
However, it was a great success. People had an absolute blast. It was such a good time that people started talking about maybe another one the next year. For the next two years, with Fred Pawluk heading up the informal organization, the event grew into more like the model that exists today, an inclusive, family-friendly event with musical concerts and workshops plus visual arts and crafts on multiple stages during the day, and main stage concerts packing the old amphitheatre in the evenings.
Article content
And so it continued on an ad hoc basis for several years, each winter people deciding to come together on a volunteer basis and plan another one for next summer. I started doing the booking and programming in the fourth year and was to do it (a couple of times with a partner artistic co-directors) for a number of festivals in the 1970s and 80'. Other artistic directors of note have included my wife, Vickie McGauley, John Closs, Claude Faucon, Paul Loewenberg (who had the longest term), and now my son, Max Merrifield.
In 1975, we came to the realization that the festival was not just a lot of fun, but had become an important part of the cultural landscape of Northern Ontario. As wonderful as it was, if we wanted it to continue, we had to get more serious about it. So we incorporated Northern Lights Festival Boréal as a not-for-profit, and started to charge admission (the early ones were free) and actually pay the artists, who had until then mostly performed for free, getting only accommodation and food.
We realized that, in order to support the music, we had to support the people who make it (something that people these days, who claim to be music lovers but only want to stream it for free, seem to forget.)
It has always been mostly about the music, folk music at the core, but dipping into almost every other genre with traditional folk roots … blues, old-time country, R&B, jazz, pop, rock, you name it … as long as it's good.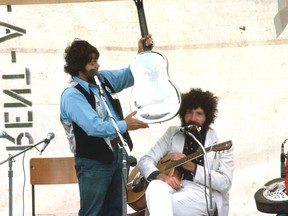 We once drafted a mission statement for Northern Lights that emphasized celebrating the bilingual, multicultural and Indigenous character of Northern Ontario.
Article content
Throughout its history, the festival has always been a bilingual organization, including both anglophone and francophone artists. CANO, not the band but the franco-Ontarion arts cooperative that preceded it, participated in the first festival. I once held auditions with the help of Robert Paquette in the Nelson Hotel in Old Montreal. It was, and still is, as well known as "Festival Boréal" as it is as "Northern Lights".
It has always also been multicultural. Ukrainian, Indian and Croatian Canadians exhibited at the first festival. The second year, Sudbury's Peter Kosyk was invited by The Good Brothers to accompany them playing bluegrass on his Ukrainian bandura, to the audience's delight. Over the years, many peoples and cultures have been represented from every continent.
Indigenous artists became a highlight beginning in the third year, when traditional Ojibwe drummers and dancers were first featured. During the 1970s, festival lineups included a virtual who's who of pioneer Indigenous performers: Willie Dunn, Lawrence Martin, Alanis Obomsawin, David Campbell, Tom Jackson, Shingoose, Willie Thrasher, Vern Cheechoo, Dan Commanda, Willy Mitchell, Lloyd Cheechoo and Eric Landry. Another memorable moment was when Billy Brittain brought Cree hoop dancing to the festival in 1980.
Northern Ontario artists have always been featured. By sharing stages, and doing workshops with amazing and seasoned performers from across Canada and around the world, Northern Lights has shown that we have talent here that can stand tall with the very best. It also allows them to make contacts and establish networks that help them to develop their music and their careers.
Article content
Northern Lights had its share of young performers in its early years who went on to achieve greatness. Reg Schwager and his sister, now Jeanette Lambert, grew up in Sudbury and played as a duo at several festivals as young teens. Jeanette is now an acclaimed jazz vocalist, composer and producer, while Reg is a leading figure in the Toronto jazz scene and four-time winner of Canada's National Jazz Award for Guitarist of the Year.
Northern Lights was the first festival that Colin Linden played at when I booked him at age 14. Colin won a Grammy in 2020 for his co-producing work on Oklahoma by Keb' Mo'. He has toured as a guitarist with Bob Dylan, performed at The White House, was the music director on the TV series Nashville, and is one-third of Blackie and the Rodeo Kings.
And then there were the two festival appearances by Eileen Twain (aka Shania) when she was 10 and 11 years old.
Northern Lights can't take credit for the later achievements of such artists, but it is an indication of how well the festival has been able to recognize great talent. I can't begin citing performers who had a huge impact. There are way too many. However, I'd like to recall some of the greats who are sadly no longer with us: Stan Rogers, Colleen Peterson, Quebecois fiddler Jean Carignan, CANO's Andre Paiement and Wasyl Kohut, Jackie Washington, Willie P. Bennett, Rita MacNeil, John Allen Cameron, Ron Hynes, Gord Downie and Gary Disalle, to name a few.
In spite of the rising stars and amazing headliners that have graced its stages over the years, an essential part of the festival experience is discovering artists and groups there you have never heard of, but who completely blow your mind when they perform. This is how it was in the 20 years when I played an active part, and so it has continued for another 30 years. Something we can now celebrate together July 7 to 10.
This year's festival
An indie rock supergroup (New Pornographers), a '60s folk legend (Judy Collins) and a Grammy-nominated guitarist from Nigeria (Bombino) will headline the 50th edition of Northern Lights Festival Boreal.
It all takes place July 7-10 at Bell Park, and in participating downtown venues.
Full festival passes are available.
For more information on the festival, visit nlfb.ca or leave a message with the office at 705-674-5512.
sud.editorial@sunmedia.ca
Twitter: @SudburyStar
Source link