Acamar Films, the creative studio behind the award-winning pre-school animation series Bing, is seeing increasing demand for experiences and live events, as young families want to enjoy memorable experiences together and meet their favourite characters.
Bing celebrates the joyful, messy reality of pre-school life and has a growing global following of Bingsters. To engage these young fans, Acamar Films has developed a multi-platform approach, enabling Bingsters to connect to Bing and friends wherever they are, whenever they want.
"We know from our audience feedback that families are actively looking for ways to engage and connect with Bing," says Kirsty Southgate, director of experiential and promotions at Acamar Films. "While there are already many ways to interact with Bing on and off-screen, the popularity of Bing events and attractions drives us to create new opportunities for all our Bingsters to access their favourite characters." 
Bing experiences in the UK
There is already a packed schedule of activities in place this year, including theatre tours, theme park attractions, themed accommodation and meet and greet events, and the company is set to announce more in the coming months.
"We will be announcing some exciting new developments very soon," says Southgate, "whilst we have partners in place to bring Bing-themed events to new territories, we are actively seeking additional partners as we expand into more markets. With relatable stories and locations, Bing's appeal is truly universal and the show is already available in over 130 territories so there is huge potential for growth in the LBE space."

In the UK, Bingsters can enjoy a new big screen title that will be released on 12 August. Bing and His Friends at the Cinema builds on the success of previous Bing films and will be shown at Showcase and Vue cinemas across the country. In addition, Bing and Flop will appear at Gloworm festival and Carfest North and South, alongside other CBeebies stars. Young fans can also meet the characters at seven branches of The Entertainer between 6 August and 14 September, with character hunts and giveaways taking place, including toy bundles and a VIP stay at CBeebies Land Hotel, Alton Towers Resort.  
Alton Towers Resort opened new Bing attractions in March: a live interactive show, Bing's Day Out at CBeebies Land, at the Big Fun Showtime, along with the first-ever Bing themed rooms at the CBeebies Land Hotel.
"We are absolutely delighted with the new rooms," says Southgate. "They are specially designed for toddlers with impressive attention to detail and look fantastic. Together with the new live show, it creates a truly memorable experience for families, extending a day out into an immersive short break."
Bing and Flop are also part of the family entertainment at three Gulliver's Theme Park Resorts, Milton Keynes, Rother Valley and Warrington. At these parks, Bingsters can enjoy a character dining experience, Bing's Breakfast, as well as themed birthday parties and meet & greet experiences. In 2023, the first Bing live show at Gulliver's launches. This will tour the parks from Easter onwards.
Bing in Europe and beyond
Acamar's Dutch theatre tour Bing is jarig (Bing's Birthday) debuted in October 2021 and shows sold out throughout spring and summer 2022. New tour dates have now been announced for autumn and winter 2022 and then into spring and summer 2023. A busy programme of character appearances has been taking place throughout the Benelux region, including events at Plopsaland De Panne theme park, ToyChamp's Champy on Tour and various family events and festivals.
Elsewhere in Europe, Bing's success continues to build in Italy with new and existing partners.  New to the Bing programme is entertainment agency Soluna Eventi. Along with licensed character appearances for retail, parades and other family events, Acamar Films has partnered with Soluna to create themed packages including entertainment and branded accommodation, specifically designed for hotels and resorts in Italy.
In 2024, the world's first dedicated Bing-themed attraction at Leolandia is set to open, featuring interactive play areas and a live show venue, as well as restaurants and shops, creating a fully immersive environment that brings the world of Bing to life. 
Bing has proven to be successful in attracting families with very young children, and the brand continues to grow internationally thanks to new licensed M&G partners signed in Poland, the Nordics and the USA.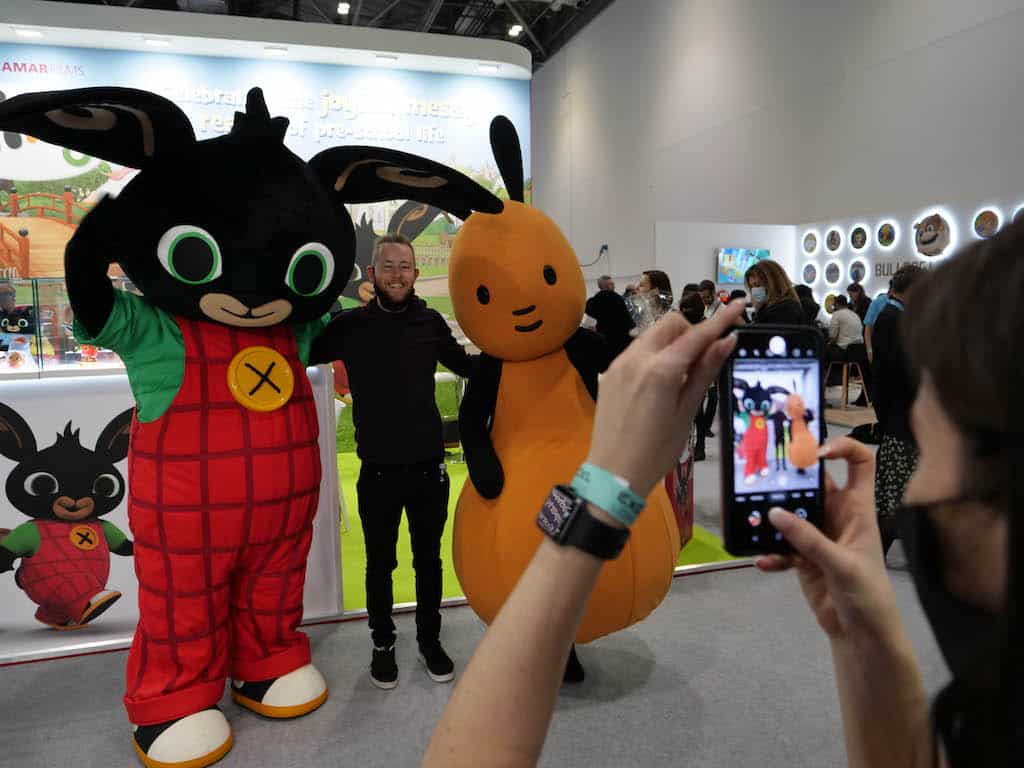 Acamar Films is actively looking for partners to complement its current programme and will be exhibiting at Brand Licensing Europe (BLE) which takes place at London's ExCel from 20 – 22 September 2022. The team will be at stand A201 – for more information or to schedule a meeting, attendees can contact Acamar Films by email.
Bing is currently distributed to over 130 territories. It engages digital audiences on a daily basis via 20 language-specific YouTube channels, social media channels, and a suite of digital apps.
Earlier this year, Acamar Films announced the opening of its Bing live show and Bing-themed rooms for the 2022 season at Alton Towers, UK.
Source link